Facilities - Club Hotel Eilat

Virtual tours
Water Park
The
hotel holds
a huge exotic water park, lying on an area of 3 acres: 6 swimming pools for adults and children (3 of them are heated during the winter), Jacuzzi pools, large tan surfaces, spectacular waterfalls, fish ponds, fruit trees, entertainment platforms, playgrounds for children and
more.
Restaurants
The hotel serves a rich buffet breakfast, in addition to a café and a fast food restaurant where breakfast, lunch and dinner can be enjoyed. Next to the swimming pools are snack carts and light food. The hotel also supplies all needs to guests wishing to cook for themselves: supermarkets with fair prices for cooking products and prepared meals for heat and serve.


Simulation games hall
A family entertainment complex that includes simulation games, game machines and sophisticated simulators, the latest in computer games.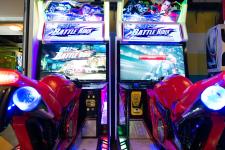 Conference halls
The hotel holds an entertainment hall "20 thousand miles under the water auditorium" shaped as a roofed theatre, containing about 900 seats and about 600 seats around tables. The hall is equipped with high tech audiovisual equipment for conferences and various events.
The multi-purpose 'Ocean' hall holds about 700 seats theatre shaped and about 500 seats around tables.

Spa and Gym
An advanced indulging gym and spa. A modernized and computed shape room and a 'spinning' (cycling) hall.
Four Jacuzzi pools and wet and dry Sauna Rooms. The "Gym Club" offers various massages: Swedish – classical, Shiatsu, and a variety of enjoyable treatments provided by a well trained professional team.

*Entrance to the spa and gym involves a fee for hotel guests.
It is recommended to book treatments in advance by phone: 08-6361636
Opening hours: Sunday-Thursday 6: 30-22: 00, Friday 6: 30-18: 00,
Saturday 9: 00-18: 00
The Lighthouse Complex
The lighthouse complex enables large-scale events to be held using innovative and advanced technology.
The attraction includes external projections, water performances, pyrotechnics, and the use of various visual and lighting means that will use the natural data in the area as well as the hotel itself as a background.
Convenience store
The convenience store is available outside the hotel. Light drinks, snacks and more are available at the store.